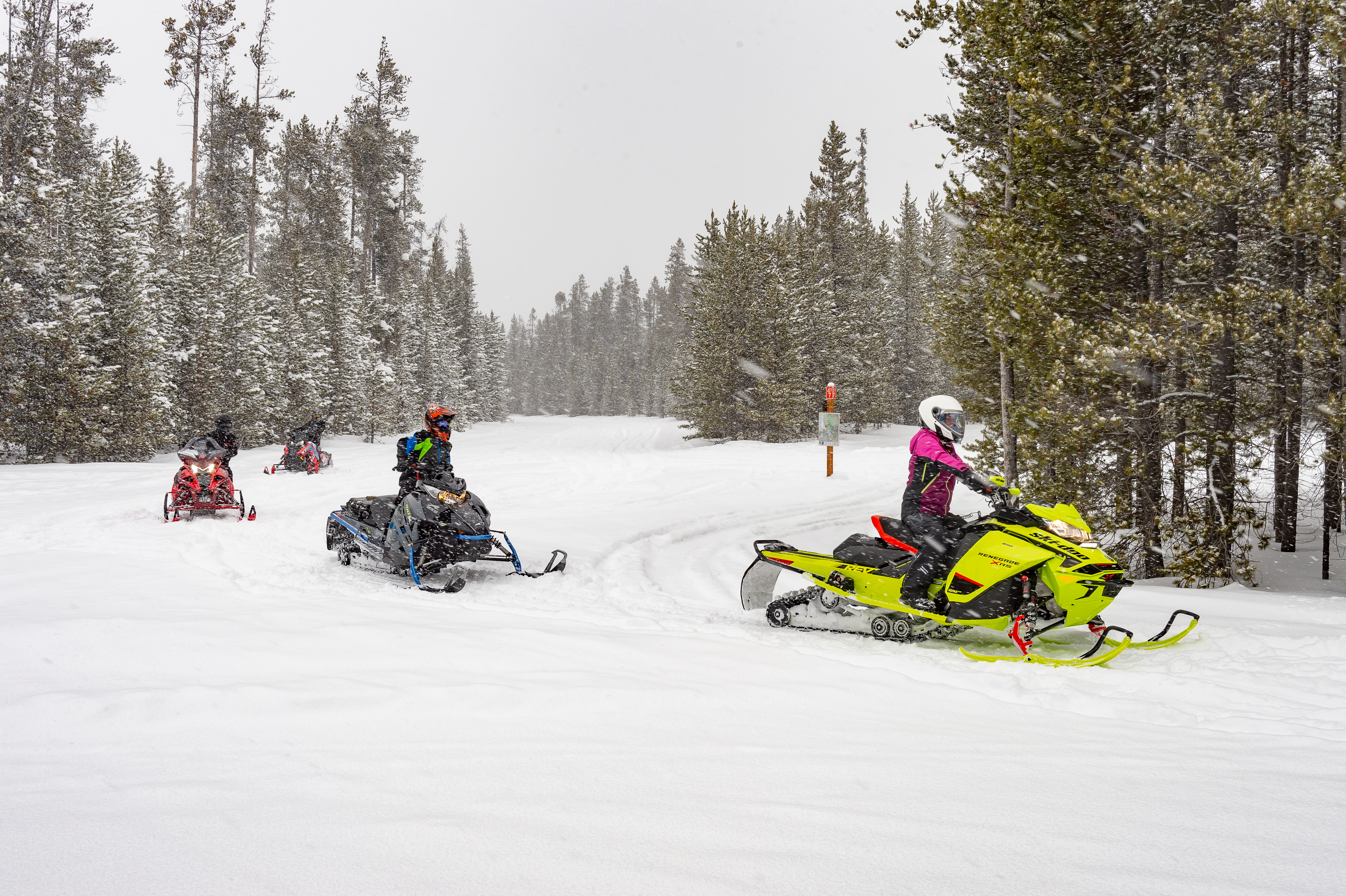 Moonlite Sno-Skimmers is one of Maine's oldest continuously running snowmobile clubs dating back to 1973. We maintain over 30 miles of snowmobile trails in Cumberland and North Yarmouth with the help of our members and volunteers providing local snowmobile riders a safe trail system. New members are always welcome.
Like us on Facebook at: https://www.facebook.com/MoonliteSnoSkimmers/
Follow us on Twitter at: https://twitter.com/SnoSkimmers
2-19-2020 Meeting Notes
Location: Toddy Brook
Members in attendance: 14
3 pole bridge work this Saturday

Need some blocking between the poles to keep them straight

9:00am start

Excavator at 10:00am

Need to level it out

Need to shim/block the center pole and build ramps

Sled material 6"x6", 2"x6", etc. needs to get down to the bridge

May need impact driver for putting in lag screws

Chainsaw, prybar, etc...

BillB got material from Board Barn, for 6"x6" and railroad ties

Joe says we should redo the "wear strips" on the new bridges to have 45 degree or more, so that drag doesn't catch

KenT mentioned waterhole at bottom of Blueberry Hill

Need some sign "backers" 12"x12"

May need another pipe drag or "panner"?

KevinG will forward weblink for "drag guy" in Chelsea, he builds various sizes...

Club officers/directors, Mark Bradeen for Dan Shehan.

Trail master needs name - ShaunB has stepped up - Thank you!

New trail(?) reopen older one to cross Rt9, ShawnM applied to CMP for Powerline from Harris Rd to Rt 9

ShaunB messaged Falm club about new 3-pole bridge opening. Lets have a grand opening cookout! Date TBD

New memberships 1 business, Rachel's, 1 family ~40 members total

Treasury

C

urrent bal - $9,346

Some exp for tools at Harbor freight and materials at Board Barn

Outstanding check for poles, Bruce in contact

No Yarm Variety needs some gas reimbursements

MikeE mentioned that meeting attendance is commendable

Buy some reflective stickers for sleds & drags!

500 Snowmo reflective stickers approved ~$400 ordered from KevinG

$250 approved for metal trail signs, "These trails maintained by Moonlite Sno-Skimmers"

Bruce mentioned some nice heavy pallets, but they can hang up a drag - they need to be better buried by snow/mud/etc.

Meeting adjourned
2-5-2020 Meeting Notes
Location: Rachel's @ Val Halla

Members in attendance: 14
Treasury report, $10,093

New check received $1,390 town of Cumberland for sled registrations, Thank you! and $100 donation from New England Mountain Bike Assoc. Thank you!

Royal River Conservation Trust, thank you letter

S

ome Memberships rcvd.

Hancock lumber bills

$199 outstanding

N

ew groomer sled registration in process.

Some tools may be missing from trail work and some found...

Membership:

Discussed honorary memberships or not? Mutual Business relationships?

Bridge trail work discussed

Karl, Shaun... Drag onto shore wrap chain, pick up and drag up stream back into place

Anchor in-place with chains and 600lb blocks-anchors allows it to float up & down

Different ideas about posts, float, cable

6x6 posts and cabling?

More lumber may be needed for ramps

5' ramps 3' high?

Bill will get ramp material

Tyler will pickup anchor/blocks.... changed direction!

Bridge Work Wknd after next 15th

Allow to rise & fall but not float away!

Drive posts down deep (4'-8') and tie cabling. 6"x6" posts

February 15th is scheduled work day for big bridge reset

Bridges should be named for trail reference/identification?

Gear orders to KevinG tonight

Thank you gift to Karl, club gear!

Great efforts by all on reopening the powerline with bridges!

"Beaver bridge" work was significant, all workers ended up in brook!

69" wide finish drag that Bruce will be pulling behind his ATV.

Blue groomer at Tyler's needs to be picked

P

oles available $300, vote approved

Woody's bill - $406 for studs,

We approved $500 for studs on blue sled.

Storm coming, hopefully trails reopening!

S

ledders are not approved to take gas pipeline to Rt. 100!
1-22-2020 Meeting Notes
Location: Toddy Brook Golf Course
Members in Attendance: 18
SteveR -Let's ride together, local trails & connecting towns

BruceC - Our trails are great shape, bridges are great too

BillB - Says Rt. 9 to clubhouse is good

ShawnS

JoeA - Trail signs are there for bridge that isn't...

KenT - Wants to talk to Karl about the excavator capabilities, Ken has a bridge plan, 45' poles...???

Beaver bridge behind fairgrounds is there but needs posts and lift up, leveling for this year and maybe move it next year

6"x 6" posts, wagon jacks

Some sledders are running the pipeline to Range Rd, not approved

BillB - Material is there to support 1st bridge

Beaver bridge

Rt100 bridge

Temp pallet 10'-12' pallets needed for bridge ok'ed by owner to Tubby's pond - Josh getting pallets from Alan and will install on Friday with his crew

Tree in middle of trail from Glenview to club bridge, need permission to use chainsaw on owners land

SteveR, MarkB - Trying get ok for trail to powerline from MarkB

ShawnM - Trail thru Oceanview asked to go on side of white fence, but not approved yet. Town garage expanding, BillShane said town will move the clubhouse over to Valhalla this summer, powered.

Oceanview trail is 7am-7pm

Trail to NY Variety ends there, you gotta go back up hill to powerline and come down further up to get to Toddy Brook

Potential trail thru to Forest Lake, Copp family gave permission

Beaver bridge behind fairgrounds is there but needs posts and lift up, leveling for this year and maybe move it next year

6"x 6" posts, wagon jacks

Shaun lead on this and we are meeting at Fairground 9am this Saturday to fix bridge

Need long lag bolts and driver, MikeE.

Pleasant Valley Rd. needs Stop & Stop Ahead, Josh will get signs from club house and place signs on trail this Friday with his crew....

Terry to ask Karl to volunteer, Steve to ask Robert to rent equip

Val Halla not plowing anymore

Oceanview is bldg new road for new development

MikeE - Has longer pallet and more pallets at Rt 100 powerline

Club website has been revamped by Mark & Steve, check it out!

New club director may be needed

BillB - Waterhole off Blueberry hill may need pallets.

Range Rd. trail has been signed, some sledders went "off-trail"

Turkey Lane trail may be blocked by snowplow

SteveR, BruceB, KevinG - May have telephone poles available, may get some from town

BruceC - Has access to 100? poles, various sizes. DanS has some poles available

KevinG - Has order forms for club embroiderd gear, jackets, fleece, etc.

Awesome job by groomers, trails in great shape!

New groomer sled all " serviced" and great to go--Woody's bill paid!

"Newer" blue sled needs to get picked!

New sled needs to be registered as a groomer.

25 families, 7 business memberships

Treasury report, $10,749.22

Next meeting - Rachel's 2/5

Alan has pallets at Royal River Boatyard, come and get 'em!

Meeting adjourned!
Our stable has grown
Mike E. has retrieved our new grooming sled and through some advanced Jenga and a couple of impolite words Mike R. , Mike E. and Steve were able to get all fours sleds packed into the club house. The new sled seems very solid and is ready to go except for registration and insurance. 
Trail Map
Park & Ride available at Val Halla Golf & Recreation Center in Cumberland